YTV Clone
Advanced Picture in Picture and Video Cloning for PC and TV
<![if !vml]>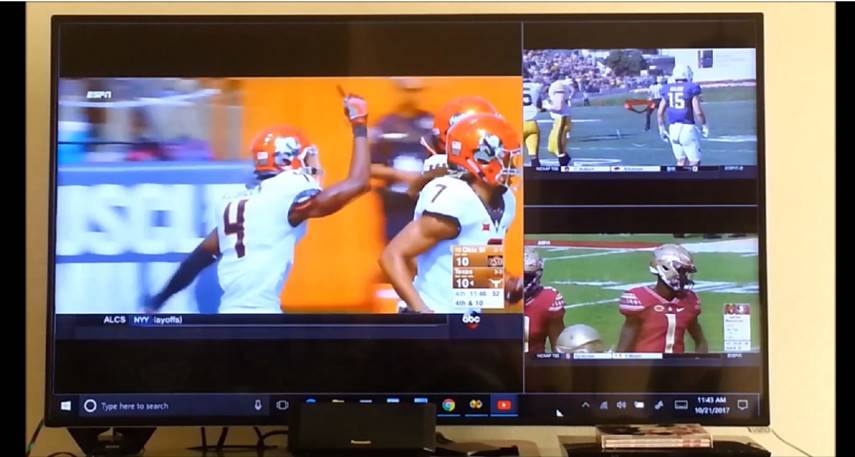 <![endif]>
<![if !vml]>

<![endif]>
<![if !vml]><![endif]>

Watch your favorite shows on your computer and stream them to your TV with Picture in Picture effects (another feature your TV does not provide).

Click the image to see how you can use YTV Clone to watch a Netflix movie and PIP a soccer channel over.

<![if !vml]><![endif]>

Picture in Picture (PIP) on your TV

With YTV Clone and Google YouTube TV you can watch two or more TV shows simultaneously (a feature your TV doesn't have). Multiple sports events, stock market reports or TV news channels can share your PC and TV screens at the same time.

Click image to see how YTV Clone and Google YouTube TV are used to show four TV news channels on your PC and TV (in this case a HDMI cable must be used to connect PC to TV).

<![if !vml]><![endif]>

Use your computer screen for doing your work while watching TV shows or any other videos on the PC screen. Best for cloning stock market reports, YouTube videos and other Internet shows that may be of interest to you.

Click the image to see how to clone and PIP a TV episode over your browser window using YTV Clone software.
<![if !vml]>

<![endif]>
<![if !vml]><![endif]>

YTV Clone is designed to work primarily with Google YouTube TV streaming app but other Internet TV streaming app will work the same. Google YouTube TV has the advantage that it can play multiple TV channels simultaneously.

TV streaming apps usually require subscription and they're not available everywhere, but you can use YTV Clone to clone any video played in the Chrome browser. Netflix, Amazon, ABC, BBC, KBPS, History, Science and many more video providers can be cloned and displayed as Picture in Picture.

<![if !vml]><![endif]>

Easy to use, straight forward user interface

All you need to do is open a web page, copy/paste the page URL from browser address bar then click Open show. This makes a PIP (miniature) browser which duplicates the web page video show and sits on top of all opened windows. You can also save the page URL for future play.

Click the image to open the user guide.

YTV Clone current version (1.0) is compatible with all Windows versions but can only use Google Chrome browser.

<![if !vml]><![endif]>

Quality guarantied: Our goal is to provide a high-quality product that aligns with your needs. We guarantee you will be satisfied with our work.

<![if !vml]><![endif]>
<![if !vml]>

<![endif]>
<![if !vml]>

<![endif]>WM Recorder software (since 2001)
Download, capture, convert, edit video and audio from thousands of web sites
with these easy to use programs
Easy Powerful and Convenient
WM Recorder 14 is the easiest, most powerful way to download and convert millions of video and audio files from the internet. Just open WM Recorder, play your video or audio and it's recorded automatically.
Pause, Rewind and Fast Forward Live Streams
WM Recorder 14 can do some amazing things with live Flash-based audio and video. For radio stations like BBC, and many streaming TV services, you can preview while recording, pause and resume live playback, rewind for an instant replay, or fast forward back to the live stream.
Discover WM Capture, the highest quality video-from-screen recorder
Great for capturing movies, webinars, music videos, cams, video chat sessions and much more in high quality.
Schedules recordings, supports dual monitors, takes video frame snapshots and much more...

Free Your Desktop While Recording
WM Capture 6.1 is the only screen capture software that allows you to screen capture video from windows that are hidden. Once you enable "Background Mode" and select the video window to record, your video can be hidden leaving your desktop free for you to use with other programs.
Picture-in-Picture Video for your PC (Windows 7 only)
VideoClone adds PIP (Picture-in-picture) to your PC. While you watch any web video, VideoClone duplicates it in any size, anywhere on your screen, on top of all your applications. It's a great way to keep an eye on sports, live streaming news, or other events while you work. You can even move, grow or shrink the video screen at any time while video is playing.
Record Video with VideoClone Plus
When you order, instantly upgrade to VideoClone Plus to enable video recording from your screen while you work in other applications. Go ahead and move windows around, you won't interfere with the screen recording. Really cool!
Multi-tasking Video/Audio Converter/Editor
Converts all popular video and audio formats

Split/trim video or audio in seconds

Join video or audio files of any formats

Rescale video to mobile screen size

Maintains aspect ratio

Slow/Fast motion effects

Converts/Joins camera DVD files

Makes DVD/ISO files

Fast conversion (typical 1/10 play time)